[vc_row][vc_column][vc_column_text]
Fake Pamp Gold Bars Photos
The photos below are of actual real and fake PAMP gold bars. Please click on the thumbnails to open larger images.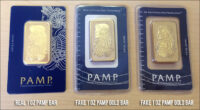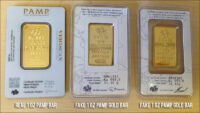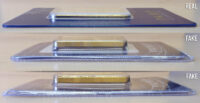 We hope that these images will be helpful to our customers and visitors.
We check every item that arrives at our facility for authenticity regardless of if we are buying from a known distributor or a private individual. If you have concerns about the authenticity of the gold that you own please visit your local coin shop to get your gold checked by a professional.
[/vc_column_text][/vc_column][/vc_row][vc_row][vc_column][vc_btn title="PREVIOUS" align="center" link="url:https%3A%2F%2Fveldtgold.com%2Ffake-pamp-gold-bars-2%2F|||"][/vc_column][/vc_row][vc_row][vc_column]