[vc_row][vc_column][vc_column_text]
IRS Reportable Bullion Transactions
Form 1099-B is an IRS form titled "Proceeds From Broker and Barter Exchange Transactions."
Veldt Gold is considered a broker as defined by the IRS, therefore certain sales of bullion to us, whether for Bitcoin, Check payment, or Wire Transfer will be reportable by us to the IRS.
The following are the types of IRS Reportable Bullion Transactions:
Gold bars of minimum .995 fineness that are 1 kilo (31.15 troy oz.) or more;
1 oz Gold Maple Leaf coins, Mexican Onzas and Gold Krugerrand coins are reportable if the quantity exceeds 25 coins;
Silver bars of minimum .999 fineness that are 1,000 troy oz. or more;
90% US silver coins in combinations of half dollars, quarters, and dimes with a total face value greater than $1,000;
Platinum bars of minimum .9995 fineness that are 25 troy oz or more;
Palladium bars of minimum .9995 fineness that are 100 troy oz or more.
Please check the IRS website for more information on the 1099-B form and reportable transactions. 
1099-B Form
Please click on the image to zoom in on the sample form, and find out which information is required by the IRS.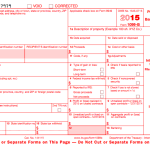 None of this information is tax advice. While we would be happy to answer your questions about selling bullion to us, please contact your CPA or the IRS for more information.
[/vc_column_text][/vc_column][/vc_row]