---
Silver Rounds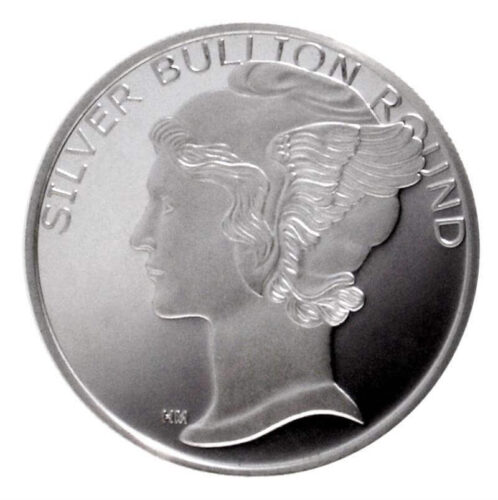 A lot of investors and collectors are purchasing silver rounds, which are a slightly lesser-known variation to the silver bar. Typically they weigh 1 troy ounce, but various sizes are available, including fractional silver rounds if you are looking for something different. The weights available is the main difference between silver rounds and silver bars, with silver rounds allowing for investors to purchase smaller quantities and sizes.
Typically, if you want to buy silver rounds with Bitcoin you will find the 1-ounce form, like the Buffalo Round, which looks a lot like a silver coin in both the shape and design. The difference between the rounds and coins though are that the rounds are only produced by the private mint companies as opposed to the government which produces the coins. Rounds typically only have the brand of the mint on one side, as opposed to coins that have a lot of designs and inscriptions on them. You can even get fractional silver rounds, which are becoming more popular as the price of silver increases. If you want to buy silver rounds with Bitcoin you can get 1/10th, 1/4, and even 1/2 ounce sizes. The smaller size you go with the silver rounds, the higher price you will be paying over spot, so keep that in mind if you want to buy a fractional round.
A lot of mints produce silver rounds, with almost every silver round giving you the details on what company made the item. If you want to buy silver rounds with Bitcoin you should also look for the purity and weight of the silver round, which should be inscribed into the silver round. If you are an investor or collector, silver rounds are the perfect choice to add to your investment portfolio without breaking the bank.